How to Easily Set Up a CV Website or Portfolio Landing Page for a Career Boost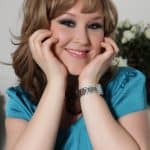 With innumerable online users of today taking a deep dive into a highly saturated digisphere boasting bountiful career-boosting potential, you might be wondering how you can 'get in' on that auspicious action!
Curious about the distinctive confounding factors that make for building a notoriously professional online presence?
In this post, I will guide you through the intricacies of using the world wide web to boost your career by sharing how adopting an online CV or portfolio landing page can propel your prospects and help you stand out from the over-crowded online arena.
My full-proof formula for creating a top CV website invites you to explore the purpose and value of online resumes while shedding light on social media strategies you can adopt to vitalise your virtual visibility for prospective online onlookers.
Furthermore, by pinpointing the prospects of purchasing a website domain to host your online portfolio, I will be your guiding compass to help you perfect your online persona and optimise your marketability potential.
Of course, no specialised website guide is complete without some valuable resources and tactful tips thrown into the mix like suitable free WordPress Themes for example!
With that said, look out for my helpful hints on how SEO hosting and digital marketing, and PR with online media placements can help improve your website's performance.
First things first, you may want to know:
How important is having a CV website and/or portfolio landing page for my career?
Well, pay close attention because, in the passage below, I expand on the importance of both by exploring their respective benefits.
The Value of Having an Online CV or Portfolio Landing Page
Ideated to appeal to your career-climbing potential, online CVs and portfolio landing pages symbiotically act to enshrine your professional persona in different digital formats and frameworks.
Subsequently, employers ultimately get to embark on a virtually viable and verifiable footpath for tracing your masterful movements from the onset of your career journey.
With overall similarities and converging objectives aside, it's essential to highlight the benefits of both professional online practices separately.
For instance, five benefits of publishing an online CV include:
Demonstrating your propensity towards being tech-savvy.
Your increased likelihood of immediate employment with instant recruitment results.
Your ability to secure a widely expansive reach with better visibility.
Expanding and solidifying networking opportunities.
The cost-free composition and completion of your online CV.
As professional accompaniments to digital resumes, online portfolios of work are vital for job seekers, as hiring managers always want a first-hand look at the impact of your work.
When focusing primarily on the benefits of online portfolios, you will find that some advantages involve:
Masterful manifestations of your professional online business card crafted for future clients and potential employers.
An authentically comprehensive and original reflection of your personality and creativity.
The establishment and subsequent strengthening of your professional brand.
Individualised demonstrations of your consistency and professionalism.
Visual representations of your talents through added media (i.e. images, videos, audio clips, graphs, etc.).
Although content directly aligns with the specialised skills and career milestones presented in online CVs, the primary focus of digital portfolios expands on a candidate's work experience by providing an online platform for recruiters to easily access proven examples of previous projects creatively showcased on a portfolio landing page.
Now, fully furnished with all the principalities perpetuating the purpose and importance of online portfolios and resume websites, before setting up your professional site, you will need to register a domain and choose a website builder, which is a delicate process not to take lightly.
How to Register a Domain Name for your CV Website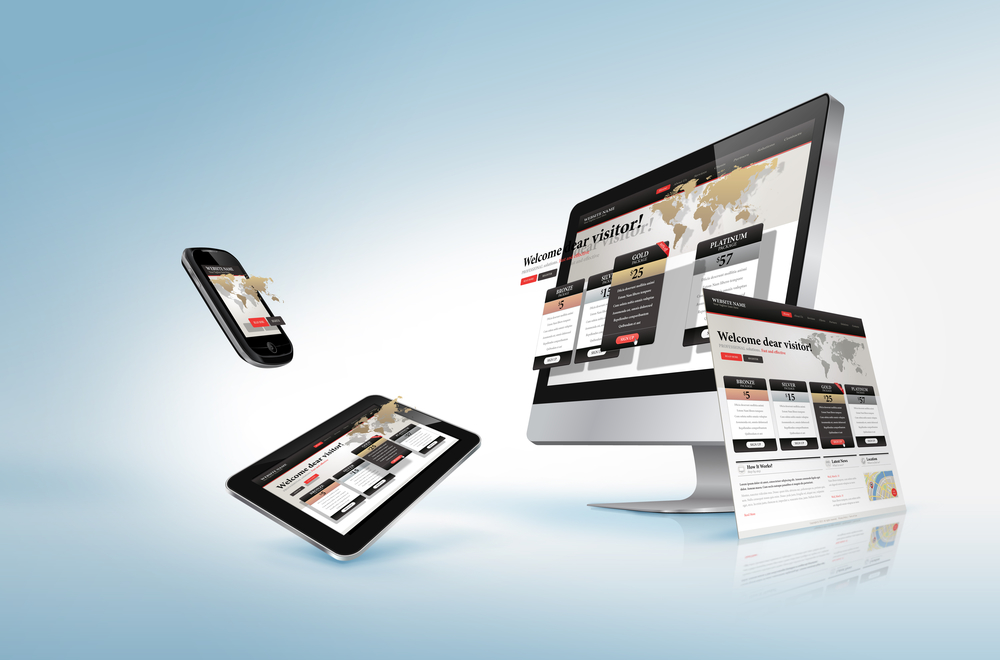 Firstly, a domain name is an address that visitors type into their browser address bar to arrive at your website.
When you buy a domain name and hosting for your site, you make it a lot easier for recruiters to find you, ensuring that you reap the benefits of having a professional online presence.
Although opting for a free domain is possible, most job seekers prefer to purchase a domain name because they look more professional and are more likely to grow with the online personas of recruitment candidates.
The price of an average domain name starts from £3.65, depending on the domain name extension you choose. A factor affecting what you'd pay for a specific domain is the TLD domain extension (i.e., .com), which is perceived to be a more valuable TLD than less-used TLDs such as .info.
Fortunately, you can purchase a .com domain name via SeekaHost at a low cost of ​​$5.99.
Before putting your money where your 'mouse' is, here are crucial steps to follow when registering your domain name for your professional online platform:
Find a domain name registrar: The Internet Corporation for Assigned Names and Numbers (ICANN) is a non-profit entity that oversees the entire system of domain names, allowing outside companies (domain registrars) to sell and manage domain names. Some of the most popular domain registrars include GoDaddy, Bluehost, and Domain.com, although there are many more for your choosing such as SeekaHost. Take careful consideration of pricing and policies for each one before choosing your domain registrar, as it will be managing your domain name. Rest assured you can always move your website to SeekaHost for free.
Search for your domain name availability: With millions of domain names existing today and thousands more added daily, you may feel disappointed to find that a domain name you've had your heart set on has already been taken. To prevent this, endeavour to search for your chosen domain name using the registrar's search bar, keeping an open mind and ensuring that you incorporate important keywords into your domain where appropriate.
Finalise your domain name choice: After brainstorming several domain options, consider which ones are available and choose the one that best fits your professional persona, making it easier for recruiters to source your online material.
Choose a domain name suffix, such as .com or .net: Considered to be top-level domains or the highest-level domain suffixes in the domain naming system, the most popular suffix is .com, with .net and .org not far behind in popularity. Other varieties to consider include country code top-level domains. These domain names end in a suffix that is particular to a specific country. A website domain in the UK might end in .uk, for example. Sponsored top-level domains are another class of domain name suffixes. These community-specific sponsored domain names include .gov, for example, as it is government-sponsored, while .edu is for educational organisations. For most websites, .com is the best suffix for its ease of use, but if you have a specialised website, you might consider a country code or sponsored top-level domain.
Purchase the domain name: When you have settled on your chosen domain name and accompanying suffix, payment protocols will soon follow via your correspondence with the domain registrar. Note that this, however, is not a once-off purchase. Typically, you will pay to own the domain name for one year, after which you can renew your registration for a fee.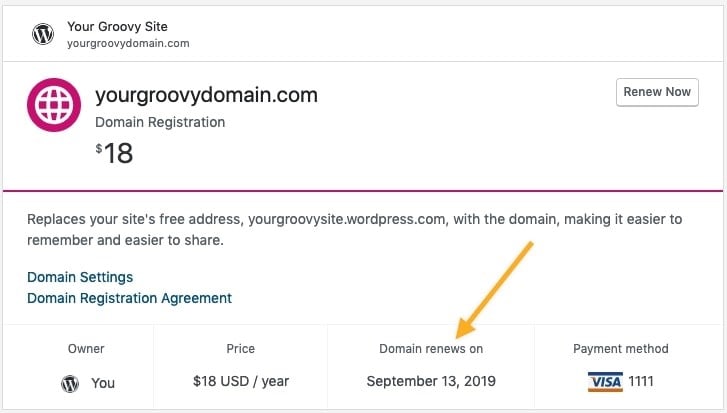 Image Credit: WordPress.com
Add domain ID protection: To register your chosen domain name, ICANN requires your contact information, including your name, phone number, physical address, and email address. Unless you pay for domain privacy through your domain registrar, this contact information becomes available to the public as soon as your domain name is registered. Domain privacy shields your personal information from view, keeping your details safe from spammers or identity thieves.
Now armed with your registered domain name gearing you for online action, choosing a content management system (CMS) or web builder (i.e., WordPress, Wix, Elementor, etc.) must soon follow.
The key to site success lies in utilising a website development tool best suited to support your professional notoriety and recruitment objectives. With that said, WordPress is a highly recommended means of manifesting the makings of your online platform, making bespoke website creation a breeze.
Exploring the Website Wizardry of WordPress
With its growing popularity continuing to reach soaring heights, WordPress has managed to consistently retain its top title as the fastest-growing content management system platform since 2012.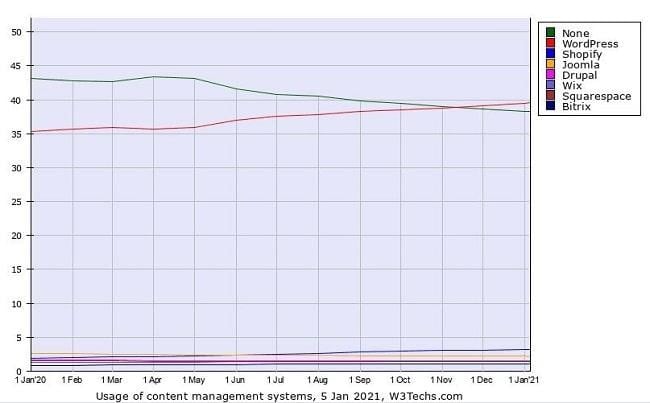 Image Credit: WP-Content
With research data suggesting that WordPress competitors are doing little to challenge its market dominance, other empirical WordPress facts and stats seem to support its significance as an incremental CMS tool.
For instance:
WordPress powers almost 40% of sites on the internet, according to data provided by W3Techs. This figure has risen by 4.5% since 2020.
WordPress powers 64.1% of all sites that use a CMS, holding a majority share in the market, making it the most dominant CMS out there.
3% of the top 1000 sites use WordPress.
How to Create an Online Portfolio Resume With WordPress
Ready to create your online portfolio and take your personalised professional website to top-tier status?
To set you on your journey to developing an online portfolio website using WordPress, refer to the step-by-step video guide:
How to Create a CV Website
With the ultimate goal of building a searchable CV site set securely in place, it's essential to lay the foundation for SEO success through crucial landing page building blocks used to develop an optimisable online CV platform.
Getting the ball rolling, creating a single-page website is considered the easiest and fastest way to showcase your CV online. As a digital canvas, your personalised professional platform gives you the liberty to include a button linking your landing page to the PDF version of your resume.
Since your CV document download link is already available for potential employers to review and openly distribute at the convenient click of a mouse, most of your work has already reached full fruition. The only accompanying element would be to include a brief well-written bio for your landing page that beautifully bedazzles online audiences through visuals representing you or your work.
A huge downside to putting your CV on the web is that search engines can't read PDFs. To overcome this massive hurdle, job seekers often include keywords related to their industry and highlight citable skills in their bio copy.
A more transformative solution would be to level up your landing page by using it as your foundation for creating a full-blown searchable CV website. Granted, creating a page for each section of your online CV requires a little extra work, but the prospects of gaining and maintaining a solid online professional presence will make it all worth your while. Check out my suggestions and tips for creating an online resume portfolio as a copywriter to get an idea about how you can highlight your personal and professional experience and expertise.
Transforming Your CV Website Into a Full-Blown Website
Owing a fair amount of credit to digital nuances making it easier for first-timers to create their online platforms, CMS like WordPress has plenty of CV templates for the picking.
The step-by-step tutorial below illustrates just how simple it is nowadays for newbies to navigate the processes involved in creating a basic website with WordPress they can be proud of:
When modifying each section of your CV into a page on your website, be sure to formulate a faultless framework by keeping all the informational essentials clear in sight in the six following ways:
Include a Statement: Displaying an objective or summary statement on your home page gives visitors a high-level overview of who you are, what you do, and what your job search entails.
Distinctly Categorise Page Information: Secondly, create a page for your experience, skills, education, achievements, and perhaps your hobbies for a little extra personal pizzazz. Each page will appear in your site menu, making it easy for recruiters to find the information they seek.
Amplify Page Text Information: In this process, start by adding all the relevant text from your original CV document onto the corresponding web pages. Given that the world wide web is a new ballgame with creative competition rife, it's highly advisable to leave hiring managers spellbound by your authentic flair by incorporating bulked-up copy that garners more visually informative appeal for your CV website. For instance, by formatting each company you've worked for in a header font, recruiters will more likely gravitate towards your work history credentials – a crucial component of the recruitment consideration process.
Provide Links to Collaborative Professional Accomplishments: Including links to projects you've worked on with other companies will give your material a dynamic edge, so don't overlook this and apply where applicable.
Creatively Customise Site Aesthetics: Incorporating themed colour palettes and custom media suitable for an individual page on your CV website will cohesively speak to your holistic originality in varying ways. In turn, visitors are taken on a virtual journey of all things you.
Show How Recruiters Can Get In Touch: I think you would agree with the pointlessness of having your beautifully crafted CV website go live without ensuring that hiring managers can reach out once they've established that you're who they want to hire. So, lastly and most importantly, create a page detailing your contact information, not forgetting to include a 'Contact' button at the bottom of all the other pages directing people there.
Taking added contact details a step further to optimise your online presence and overall reach, you're also at liberty to utilise your pre-existing social media platforms to expand the job search initiative by incorporating links to your profiles.
Linking Your CV Website With Your Socials
As an alternative online means of connecting with recruiters and professional peers on a more personable level, turning to social media can likely tip the scales in your favour. For job seekers, this especially rings true when presenting an admirably wholesome and respectable online image that onlookers can easily gravitate to for all the right reasons.
Nowadays, you can easily use social media to garner traffic to your CV website. By representing or promoting the general ethos of your site and its purpose via your social media platforms, you develop trust and create long-term value by gradually building your online reputation and credibility over time.
Whether used to place yourself in the running for your next role or gradually expand your professional network, social media establishes a direct line of communication with recruiters, most of whom are contactable via popular platforms like LinkedIn, Facebook, Twitter, and Instagram.
Irrespective of whether or not you end up landing the gig, social media is an effective tool for correspondence with hiring managers. This means of relationship-building helps build rapport and can open many doors to other employment opportunities that may appear down the line, either with the same company or with others in your ever-expanding network.
It's a win-win, so keep your CV site circulating on those socials!
Now, with all the heavy lifting put into your professional online platforms reaching fruition in their respective formats, let's nudge your sites towards notoriety to boost your career prospects by strategizing for SEO to meet digital PR objectives.
How to Use SEO to Improve Your CV Website's Performance
Short for digital public relations, digital PR is an online marketing approach used to garner online awareness towards a targeted audience. Tactful in providing a viably credible online presence for job seekers, online CVs and portfolio landing pages are considered valuable pieces of marketing material in the digital PR landscape.
Since the dawn of modern-day digital PR, honing specialised SEO techniques to drive traffic and measure conversion has fast become monumental for measuring site metrics. Consequently, you need to learn digital marketing skills ranging from being able to start your website to gaining knowledge about how internet marketing works.
With widely sought-after credibility, interconnected network expansion, and insurmountable website traffic at the epicentre of any site's SEO success, effective digital PR practices, and their advantageous potential in the marketing arena always undertake to meet the core factors below:
Fast and effective information-sharing
Improving SEO and increasing site traffic
Generating leads
Building online authority
Increasing online awareness
Improving online reputation
Generating meaningful engagement
Increasing trust through user-generated content
Not to be overlooked, digital PR is valuable because it introduces your online material to a vast array of new target audiences through search engine results pages and advertorial placements featured on popular sites of relevance to your niche or industry.
Imitation is the best form of flattery! So, I hope that by sharing a few prime examples of the best CV websites making monumental rounds in the digital arena, you'll get inspired to follow in their footsteps and use my comprehensive insights as your go-to guide for CV site success.
Top 5 CV Website Examples
Considered largely memorable due to the level of authenticity and originality employed by creators during development, only the most effective online resumes attract high traffic volumes through their user-friendly navigational nature and visually succinct display of accessible information.
Making it your objective to elevate your online presence with your CV website, use this calibre of creativity as the benchmark for your site's success, and get inspired.
Below are five examples of the best professional resume websites out there:
1. Gary Le Masson
A great way to show your creativity on your CV website is to liken the look of a well-known platform to yours. Gary's online resume, for example, has been designed to look like Google's interface, which makes for a fun and engaging experience.
Image Credit: Garylemasson.com
With its content appearing like a search engine results page, the Google Resume and References tabs are present as hyperlinks and meta descriptions. By clicking on various displays, related information gets shared.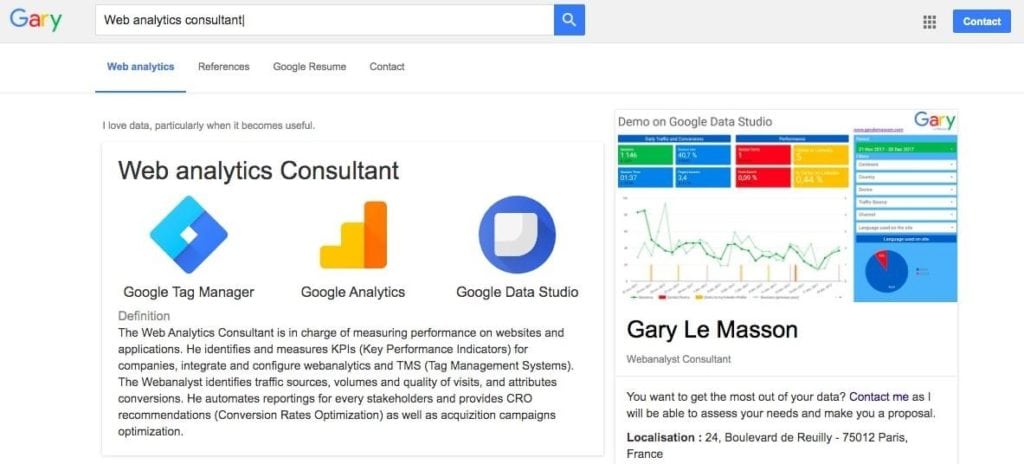 Image Credit: Garylemasson.com
In the Web Analytics tab, Gary details his work experience, going into further detail about steps you can take to help you get started. A demo image on the right of the same page shows his resume website performance. Clicking on this image redirects you to the website's Google Data Studio, which exhibits what his services can do for his clients.
2. Ximena Larkin
If you have a picture of you with a well-known public figure, showing it is a quick way to increase your credibility.
Image Credit: Ximenabqk.com
Take Ximena's online resume, for example, where her homepage greets you with a large image of her and Michelle Obama!
Presenting a detailed description of her work as a PR specialist and writer, she provides links to her work and press coverage to give potential clients an idea of what she offers. The homepage also demonstrates additional experience by featuring a photo of Ximena speaking at an award show.
Working as a freelance writer, Ximena makes a wise move of providing a link at the bottom, giving instructions on how to pitch article ideas to her.
3. Sean Halpin
If you're looking to use illustrations on your resume, Sean Halpin's CV website can be a great source of inspiration.
Image Credit: Seanhalpin.design
The subtle simplicity of the visual elements comes off as attractive yet non-distracting from more important information.
Putting his eye-catching illustrations on full display to showcase his distinctive style, Sean has conditioned his site to read like an effective landing page. Its content begins with who he is and what he does and ends with a call-to-action button, leading visitors to contact him. His text descriptions are also concise and coherently written, making it easy for readers to intake all the information.
4. Pascal van Gemert
Who said being a career professional means bidding farewell to your inner child? By the looks of it, Netherlands-based web developer Pascal van Gemert begs to differ.
Image Credit: Pascalvangemert.nl
Pascal's online resume is an ideal example of a user-friendly website. The interactive platform has a single-page template fine-tuned for scrolling, making the platform simple for any visitor to navigate.
Although the website provides lots of information about Pascal, the layout keeps everything in order via the handy sidebar, which swiftly redirects visitors to their section of interest.
As if the simplistic scrolling elements aren't enough, the page's attractive appearance also improves the browsing experience, with visitors getting a fuller picture of who he is through the large header image of Captain America and the famous quotes introducing some sections.
5. ​​Martin Ringlein
Despite his long list of previous roles, Martin's website design makes it straightforward for users to explore his career milestones.
Image Credit: Marty.com
The page uses a horizontal scrolling feature, so people can easily use the arrow keys to navigate the online resume. If you have years of experience under your belt, this might be the right way for you to tell the story of your career.
Irrespective of where you land on the work experience spectrum, your online CV has the potential to maximise the recognisability of your skills and career history in many creative ways, much like the examples presented above.
As a mechanism for creating a separate performance-specific nuanced website, isolating your work experience to form an online portfolio can significantly support your CV site and produce valued recruitment results for your career.
Conclusion
Despite the distinct disparities between online CV websites and portfolio landing pages, it's worth noting that both pursuits of professional online propriety exist to serve the same purpose: to digitally showcase the extent of a job seeker's suitability for a recruitment opportunity.
In complete synchronicity, the co-dependent relationship shared between CV websites and online portfolios fortifies a need for job seekers to set their sights on creating both types of web formats and supporting content to maximise their online notoriety agenda.
Although purchasing a website domain for your online portfolio imposes various budgetary implications, buying a domain name will guarantee a higher ROI engineered to drive an optimised online presence directing people of interest to your beautifully displayed digital material.
Remember, you're only starting out and while you expand your career, your CV websites expand simultaneously. Plus, you'll gain more followers and become an established expert in your field if you also share tips and advice on your blog with short posts for example. Just check out these top male influencers and female influencers to be inspired and get started today!
Author Profile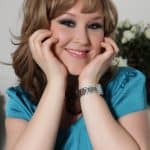 Blogger and Educator by Passion | Senior Online Media & PR Strategist at ClickDo Ltd. | Contributor to many Business Blogs in the United Kingdom | Fascinated to Write Blogs in News & Education I have completed a journalism summer course at the London School of Journalism and manage various blogs.