PPC Consultant London: Is Dinesh Kumar VM best Google AdWords Expert for Ads Campaigns?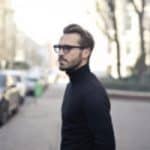 Are you a local business owner looking for the best PPC Consultant in London to help you get more inquiries for your business website from Google Search?
If Yes, then you need to know about Dinesh Kumar VM who started as a freelance PPC Consultant in London at ClickDo Ltd. digital agency few years back and now managing clients at ClickDo.
He has been working with the best SEO Consultant in London for over 3 years and helped hundreds of UK local business owners with ROI focused Google AdWords campaigns.
Why you need a Google AdWords Consultant?
The Google's business model is AdWords and with Google PPC ads any business owner can get their business website in front of the right audience/market/customers in shortest possible time.
Not like organic SEO services which takes months or years to rank and help you bank; with Google ads your business website can make money from the day it went online.
At SeekaHost, we use Google AdWords everyday to get customers to buy our webhosting services packages and Dinesh and the his colleague Aslam handles it very well.
Hiring the best PPC Expert for your business will help you with best paid campaign strategy and as a return you can get more potential visitors to your website from the Google SERP (Search Engine Results Page).
Now in this blog, let's see about the one of the best PPC Consultant in London and his previous works in the Google AdWords.
Who is Dinesh Kumar VM?
Dinesh Kumar, born and raised in India has started his career with blogging during his college days.  During his college days he decided to do something extra other than being just a bookworm, so he chosen SEO niche and started a blog with his two friends Gowdham & Aslam. Dinesh with his two friends, started working in SEO during college days. Being a newbie, he explored more in SEO and after lot's of ups and downs he started seeing positive results with his blogging website.
After his immense success in his first blogging website, He planned to explore more in digital marketing field as it's going to be the in-demand service in the coming years. Dinesh started working in the niches like Organic SEO, Paid Campaigns like Google Ads, Facebook Ads, Remarketing, etc.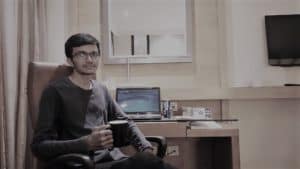 In 2017, He met Digital Entrepreneur Fernando Raymond, CEO & founder of two companies namely ClickDo & SeekaHost and started working with him. During the past few years, he worked closely with many clients in UK on different niches like Law, Orthodontist, Rubbish Removal, Cleaning, E-Commerce, Payroll Service, Probate, Photography, etc and helped the business owners with online marketing activities.
Dinesh wrote and published books on different topics like Link Building Guide for SEO, Google AdWords Guide, How to create a Website from Scratch – Complete Guide. These books are available in Google Books & also in Amazon Kindle. He also created a complete Course on Google AdWords for the beginners which is available at SeekaHost University.
It's no wonder now he is an expert in SEO & Paid Ads (Google & Facebook Ads). He handles bunch of clients at ClickDo and also helps with the paid marketing campaigns at SeekaHost. Dinesh is the Digital Marketing Head at ClickDo Ltd.
Best PPC Consultant in London
There are many freelancers and agencies in London offering the PPC Consultancy. But hiring the best PPC Expert for your business who have already handled many paid campaigns in various niches will ensure that you have made the right decision for your business growth.
As mentioned earlier in this blog, Dinesh have worked closely with many business owners in London and here I am sharing few sample works done by him for the businesses in the UK.
Dinesh has worked with one of the Orthodontist in London and spend nearly around £10k to £12k in Google Ads alone. You can check out the case study here.

He also worked with one of the E-Commerce client in UK who sells WorkWear related products through his website. Google Ads campaign have helped the client to run out of stock for the products which they sell and the client is super happy with the paid campaigns as he conveyed the same through the email (refer below image) and you can check the case study here.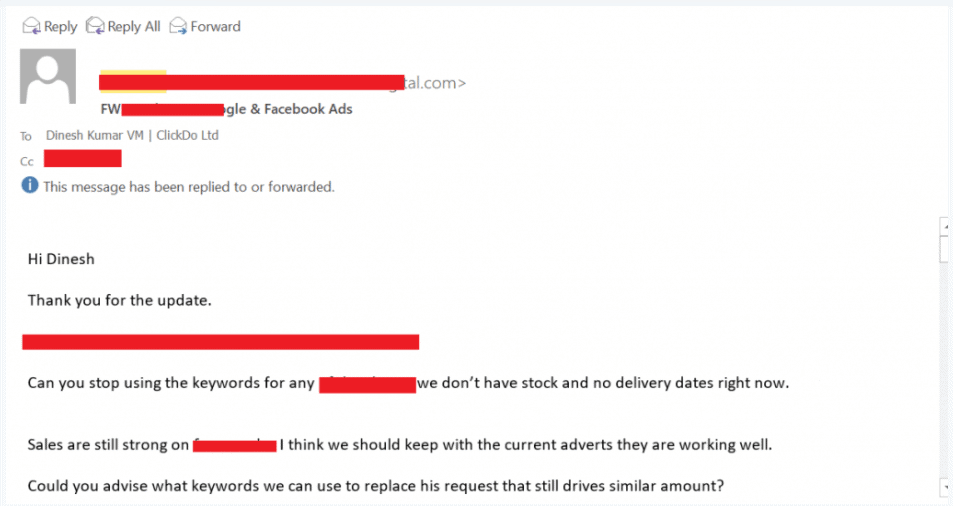 When it comes to the Google Ad's campaigns, its all about the budget, the more you spend the more you get. But even some of the clients have limited budget to get started with. One such client is from Circumcision niche and Dinesh proved that he can even get the best results from the limited budget. As the client saw the results, he is hooked up to increase the budget and the client himself asked to increase the budget to get even more inquiries (refer below image), You can check out the case study here.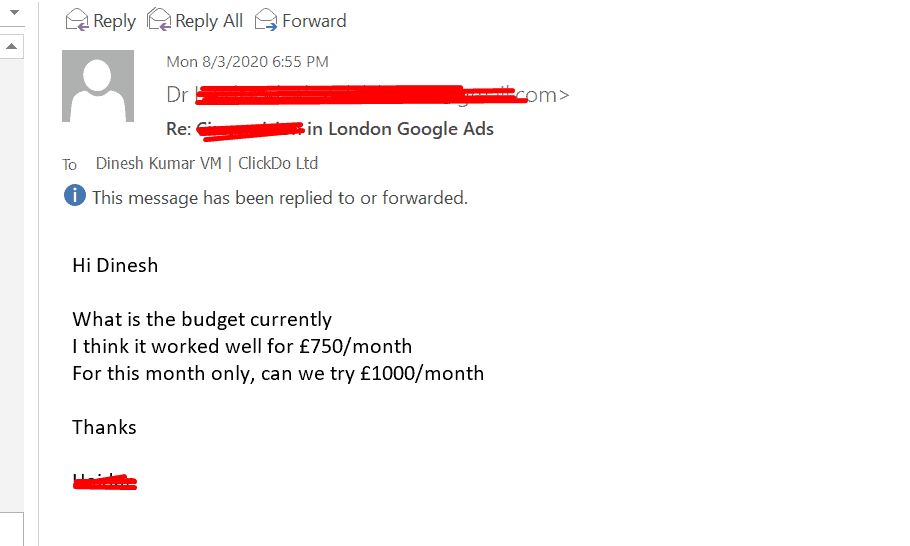 Dinesh also worked with one of the cleaning niche client in London and spent around £20k in a year with Google Ads to generate more booking for cleaning business. You can check out the case study here.
So as a business owner, if you are planning to hire the best PPC Consultant who already handled many paid campaigns. Then Dinesh Kumar VM from ClickDo will be the right choice for you.
Google AdWords Book by Dinesh Kumar VM
In the past few years, Dinesh have closely worked with many clients in UK in various verticals and helped the business owners to get more inquiries through Google Ads. He planned to put up all his experience to help the beginners in the Google AdWords. So he wrote and published a complete guide in Google Ads.
As a business owner or a newbie, if you are planning to get started with Google Ads, then you can check out this book. He has covered everything in this book right from Google Ad account creation to Ads creation with the real time examples. So for the beginners, this is the best choice.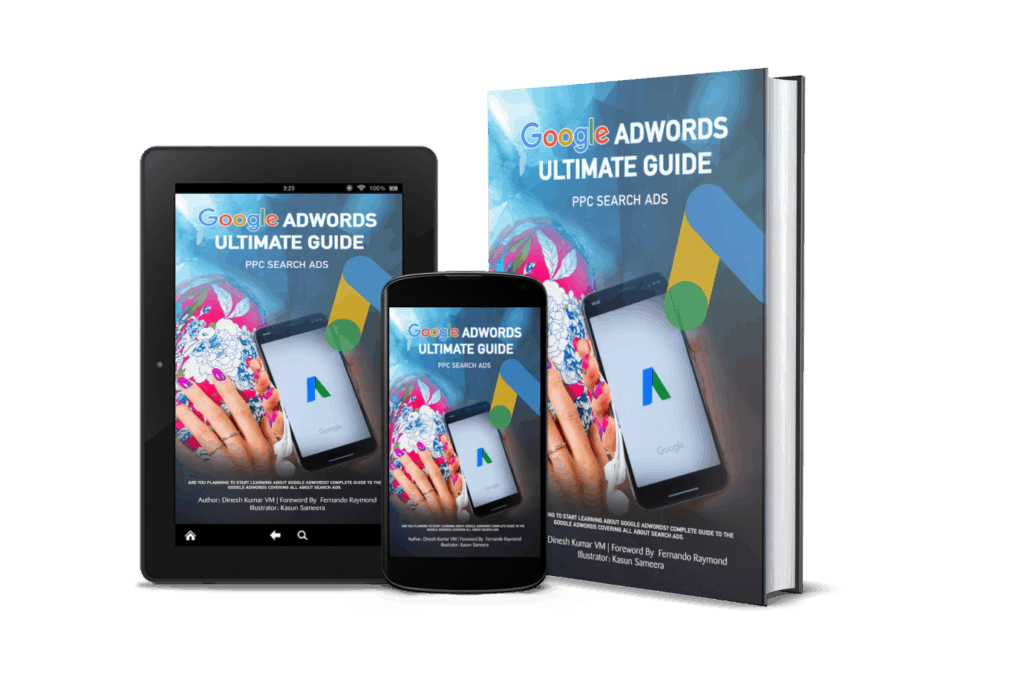 You can check out the book at https://www.amazon.com/gp/product/B086ZZW9DK/ref=dbs_a_def_rwt_bibl_vppi_i0
Google AdWords Course for Beginners by Dinesh Kumar VM at SeekaHost University
Earlier this year Dinesh & Fernando planned to help the newbies in the Digital Marketing niche with proper resources. This gave rise to SeekaHost University where you can find all kinds of online marketing courses in SEO, Blogging, Google Ads, Facebook Ads, etc.
Since Dinesh have plenty of experience in Google AdWords, he created a complete course on Google AdWords. In this course, everything is explained with video tutorials by live screen sharing. There is no boring presentations or text contents in this course. Everything explained in this course right from new Google Ad account creation, Payment setup, New ads creation, etc. Even live results of the Google Ads are shared in this course. So as a beginner, this is the best choice for you get started with Google Ads.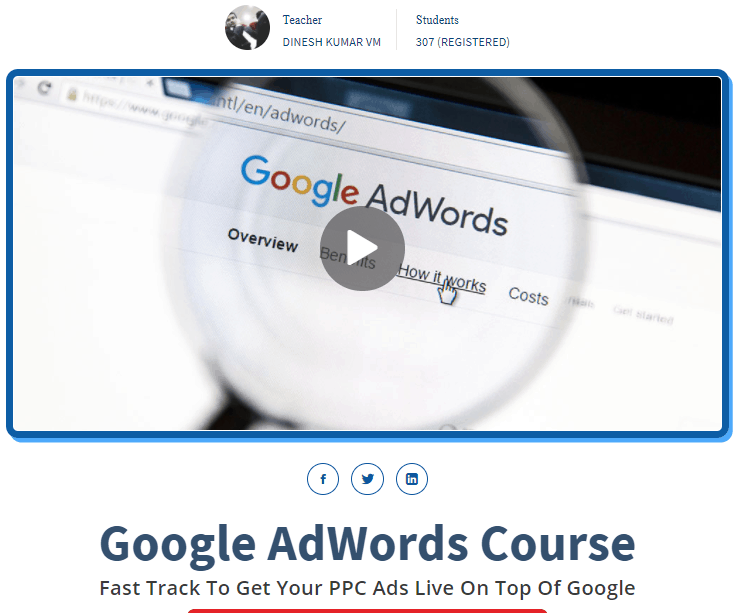 You can check out the course at – https://university.seekahost.com/courses/google-adwords-course/
Dinesh Kumar VM's view on PPC Consultancy in London
As we know, the usage of internet is increasing day by day and maximum percentage of the users started using Google to buy any products or find any service which they are in need of. Hence Dinesh firmly believes that being a business owner or if you are starting a new business, you should have a dedicated budget for Google Ads if you are planning to get more inquiries and stand top among your competitors. Google Ads is the prime source where you can target the right audience easily and make them land on your website. So if your business lacks inquires, Dinesh's suggestion for you would be to get started with Google Ads for immediate results and also invest in SEO at the same time so you can rank your website organically which will help you in long run.
Author Profile
Guest Blogger & Outreach Expert - Interested in Writing Blogs, Articles in Business Niche | News Journalist By Profession in the United Kingdom