What is required to register a co.uk Domain Name for a Blogging Website?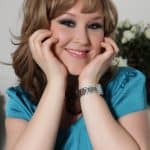 When it comes to .co.uk domain name registration, there are some requirements you must fulfil to register a domain for your website or blog.
Unlike buying a cheap .com domain name for just $5.99 at SeekaHost, which anyone can register, you must be a UK resident with a registered UK address or run a registered UK business entity in order to register a .uk domain, but not for registering a .co.uk domain.
So, if you want to become one of the next top UK influencers and bloggers then read on for further details.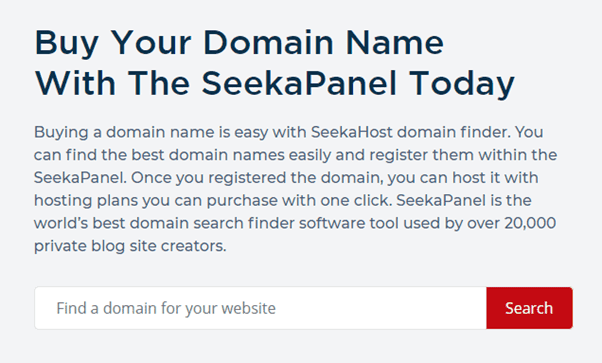 In this guide we will explain everything you need to know for .co.uk domain registration requirements and how to easily buy a cheap .co.uk domain for just £3.65.
Why get a .co.uk Domain Name for a Blog?
The co.uk domain extension is a country code top-level domain (ccTLD) for the United Kingdom and managed by the Nominet registry.
The .uk domain is one of the oldest and most used domains worldwide with over 11 million registrations since the first one in the early 90s. Such a ccTLD is popular among Brits and it will immediately brand your website as 100% British.
Other domain extensions include .org.uk as in https://www.greenlivingblog.org.uk/ for example, which is also registered with the SeekaHost.app and performs well on UK search engines to cater to the UK market.
1. To help bloggers in the UK get a domain name of their choice at a very affordable price with a British ccTLD perfect for UK based webmasters, we have outlined the easy-to-follow steps on how to get started.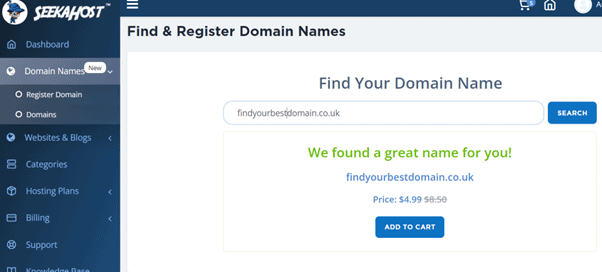 2. Once you have selected your preferred .co.uk domain, add it to the cart and go to checkout.

Please note the following key points:
Nominet discontinued the contact privacy service on all UK TLDs. Therefore, the contact privacy option is not available for .co.uk TLDs.
The auto renewal option is available. If your domain needs to renew automatically check the auto renewal option (recommended).
3. Complete the UK TLDs additional requirements
Some ccTLDs require additional information for domain registration. UK TLDs require the following mandatory information: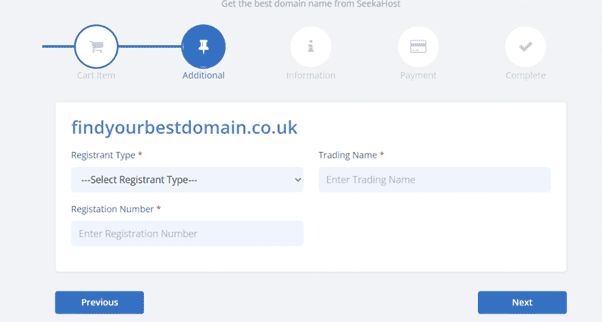 Registrant Type – required
Trading Name – required based on registrant type
Registration Number – required based on registrant type
Without the mandatory information, you will be unable to register a .co.uk domain.
4. Add the contact information (personal/company/billing)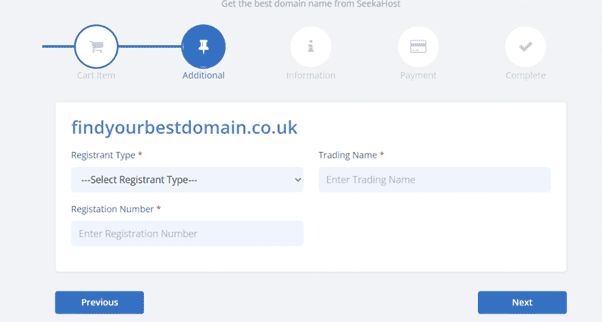 Please note the following key points:
To register a .co.uk domain a specific residency is NOT required. However, the .uk domain has specific residency requirements (e.g., the registrant's address must be within the UK). But the co.uk domain registration does not have such requirements. Therefore, anyone can register this second level domain.
Personal information will be the domain registrant information. Therefore, make sure to provide valid contact information. e.g., address 1 must contain valid characters and providing only numbers will be invalid.
Make the payment for the domain
After the payment for your purchased .co.uk domain has successfully been processed, go to Domains inside the dashboard and check your domain status is "Active".
If the domain status shows "Processing", please contact the support team for more information.
If the domain status shows "Waiting", please retry the domain registration with valid information (contact/additional information).
Until the domain status is "Active" your .co.uk domain is not owned by the registrar. Therefore, to avoid a failed domain registration make sure to provide adequate and valid information as outlined in the above steps during the checkout.

5. Registrant verification email
Nominent (UK registry) will only send a registrant verification email to a registrant when the domain registry could not be verified or if the given contact information could not be found anywhere (Nominent uses third party sources to verify the registrant information). Otherwise, registrants will not get any registrant verification emails from Nominent directly, which means it's already verified.
Hopefully you are now much clearer about all the requirements to consider when registering a .uk or .co.uk domain name for your blog. You can learn more about how to buy domain hosting for a WordPress site here.
Give it a go and if you encounter any issues along the way the customer support team are available in the live chat or via the support ticket system to assist you.