Ireland vs. UK: Where Digital Nomads Can Find Hosts For Less With Most Visited Accommodation Booking Website Airbnb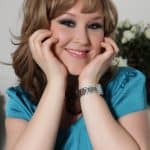 Digital nomads among many other travelers turn to the third most visited website in real estate in the UK: Airbnb to search for affordable, comfortable, and safe accommodations in some of the most iconic cities of the world.
The picture is similar in Ireland where Airbnb comes in at fourth place for the most visited real estate websites:
With more people searching for and booking accommodation online via property rental sites like Airbnb, it enables travelers to make better comparisons between hosts, cost, and locations.
Booking websites like Airbnb or Expedia can achieve millions of visits monthly and roughly 564 million online visits were made to booking.com in May 2022 according to Statista, while Airbnb received nearly 100 million.
If you want to build the next big online booking website, you need to invest in a unique and brandable domain name that can also rank well on search engines, so read this domain name SEO best practices guide.
With the recent cost of living crisis affecting everyone, including online jobbers, many would try to reduce their costs while traveling and working remotely or earn more with online jobs.
Because SeekaHost is a web host promoting the remote lifestyle and online work, here's a current assessment of the costs of Airbnb rentals in some of the most popular cities in the UK vs Ireland to uncover where post-Brexit the best bargains can be found for travelers to this beautiful part of the world where SeekaHost is based.
Disclaimer: The below price comparisons are temporary snapshots and prices may vary depending on the time of year bookings are requested.
1. London versus Dublin
If you are thinking of parking yourself in a new city for 10 to 15 days, you may have trouble choosing between London and Dublin. Digital nomads prefer London and Dublin due to their breathtaking history, cosmopolitan identity, digital-native economy, and freelancing business opportunities.
So, as a remote worker, let's see which city is best suited if you are looking for accommodation online.
London
Who wouldn't want to experience life in London while working remotely?
The rich history, thriving pub cultures, amazing nightlife, and beautiful sceneries draw digital nomads to London time and again. However, finding budget-friendly accommodation in London can be a doozy if you don't book ahead of time. Most digital nomads rely on Airbnb to find short-term rentals in London.
The cost of living for someone who likes to enjoy the finer things may reach £1200 for a 7-day stay.
The median price of an Airbnb rental may go up to £1,750 for 10 days. For example, the cost of a cozy private room can be around £34 per night.
A fully finished studio flat can go for £87 per night.

You can find a fully furnished studio flat in Greater London for around £70 per night if you book early.
For something more luxurious in the heart of the city, you may have to shell out an average of £100 per night.
The most luxurious accommodations are typically guest houses with free driveway parking, private patios, complete kitchen amenities, and complimentary Wi-Fi.
Dublin
Dublin is the obvious choice for all Insta-friendly, travel and adventure-loving digital nomads. It's a vibrant city brimming with new opportunities to meet new people and learn about their culture. The cost of living can be a little high, but Airbnb has made it possible for remote workers to find affordable short-term rentals in the heart of the city.
The average cost of renting a studio apartment near Zanzibar Locke in Dublin is around £129 per night.
Renting an apartment in Rathmines may cost a little less (£73 per night).
If you are looking for an authentic feel, you can rent an entire home in Dublin for around £130 per night.

For example, this old-world converted stable yard with 4 bedrooms, 5 beds, 2.5 bathrooms, private working space, and an indoor pool goes for £102 per night.
London versus Dublin: Comparison of costs of accommodation
| | | |
| --- | --- | --- |
| | London | Dublin |
| Avg Cost of Living | £4,108 / month | £3,960 / month |
| Avg Nightly Price (Airbnb) | £191 | £178 |
| Avg Nightly Price for Private Room | £94 | £119 |
| Avg Nightly Price Full Apartment or Townhouse | £261 | £254 |
Our research shows that finding the perfect host in London and Dublin within your budget can be easy if you book your accommodations in advance. Book at least two weeks before you visit these cities. These cities have always been tourist magnets and finding the ideal apartment may be difficult if you try to book from the airport.
2. Belfast versus Westport
Belfast is a happening city with culture and history on every corner. Westport, in Ireland, is a similarly quirky little town with a significant history of its own. If you are a digital nomad with a love for culture and frugal living, you may have a tough time choosing between these two cities.
The low cost of living in each city (by UK and Irish standards) attract hundreds of digital nomads every month. Therefore, you will have to be thorough and early in your research about accommodations.
Belfast
Belfast is one of the most popular cities among digital nomads across the world. Let's see how you can find economic short-term living quarters in this thriving, nomad-friendly city.
Private rooms in Belfast can be as cheap as £31 per night. For that price, you may get a self-contained studio apartment that is ideal for 2 hosts.
Private rooms are great options if you are traveling with a friend and looking to split costs.
An entire guest suite complete with a private patio, dedicated workplace, indoor fireplace, kitchenette, and free Wi-Fi may come for as less as £65 per night.

For example, this self-contained rental unit complete with 1 bedroom, 1 bathroom, and access to a kitchen, laundry area, and a grandiose mountain view will cost you around £76 a night.
Westport
Never heard of Westport before? That's alright. It's a tiny town on the west coast of Ireland, renowned among discerning tourists. Westport won the Irish Tidy Towns Competition three times in 2001, 2006, and 2008. It won the Best Place to Live in Ireland competition in 2012.
Want to get away from the humdrum of busy city life, but don't want to compromise on the comforts? Westport is the right choice for you.
A private room in Westport, Ireland can come for £26 a night.
An entire townhouse in central Westport can cost between £76 and £120 per night.

With pocket-friendly rent, you can expect free Wi-Fi, access to the kitchen and laundry rooms, and an amazing view of the mountains and the valley from your bedroom window.
Townhouses offer more space, amenities, and privacy.

For example, the one in the photo is a gorgeous, restored townhouse with 3 bedrooms, one luxurious bathroom, a new kitchen-diner, a cocktail room, and a garden with a picturesque view of the town.
Can't decide whether to park yourself at Belfast or Westport? Seems like Belfast is an ideal option for those looking for a fun crowd, lively nightlife, and amazing food. Belfast is also a little cheaper than Westport. However, if you want to experience a quaint life and be greeted by panoramic sunrises every morning, Westport is the city for you.
Belfast versus Westport: Comparison of costs of accommodation
| | | |
| --- | --- | --- |
| | Belfast | Westport |
| Avg Cost of Living | £2,861 / month | £1,961 / month |
| Avg Nightly Price (Airbnb) | £111 | £138 |
| Avg Nightly Price for Private Room | £59 | £68 |
| Avg Nightly Price Full Apartment or Townhouse | £137 | £169 |
3. Liverpool versus Limerick
Liverpool is a fun city with a thriving nightlife and uninterrupted free Wi-Fi. It is the sixth most visited city in the UK and ranks quite high in popularity among digital nomads. Thankfully, the cost of living in Liverpool is still low as compared to the other cities in the UK.
However, if you are tired of the humdrum of a city, Limerick is the place to go. It is not remote. Yet, it has a gorgeous country life. Interestingly, you can find budget private room options in both Liverpool and Limerick.
Liverpool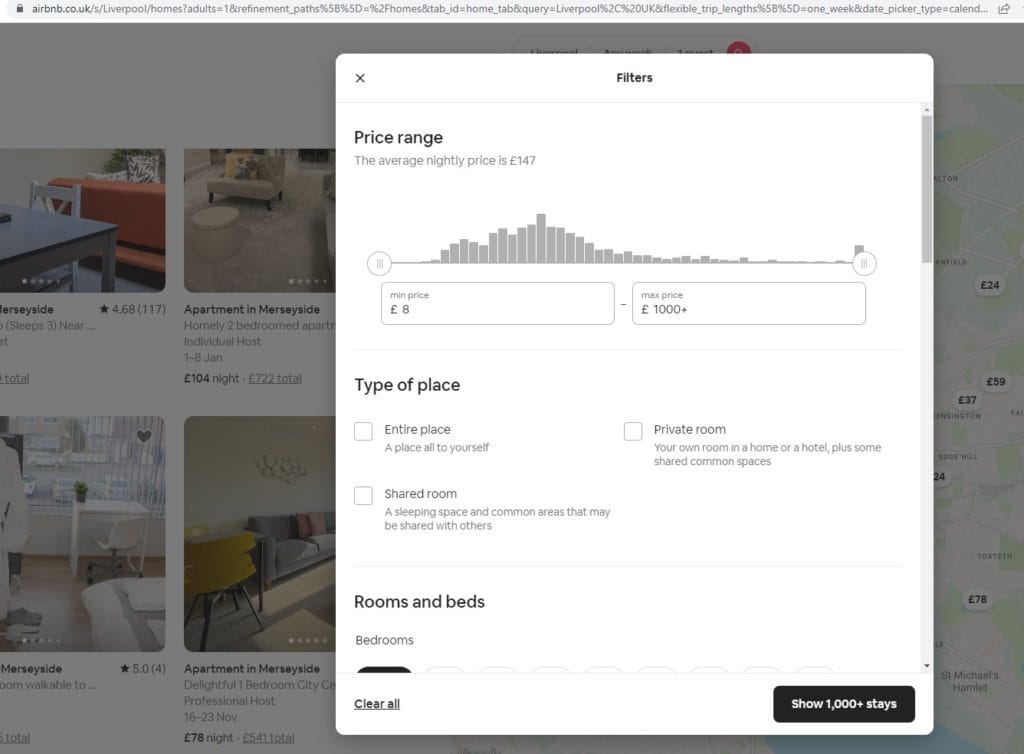 Airbnb has a clever filter that allows you to see and enter your max. price for the accommodation, which makes your search much more effective, and it also gives you a good idea about the average cost.
Let's begin with Liverpool.
Private rooms in Liverpool can begin from £30 per night.
You can also find fully furnished flats in Merseyside and hotel rooms in Merseyside for between £60 and £78 per night.
The average cost of renting any property through Airbnb in and around Liverpool is around £147.
You may easily find a luxurious apartment or a townhouse in Limerick for an average cost of £111.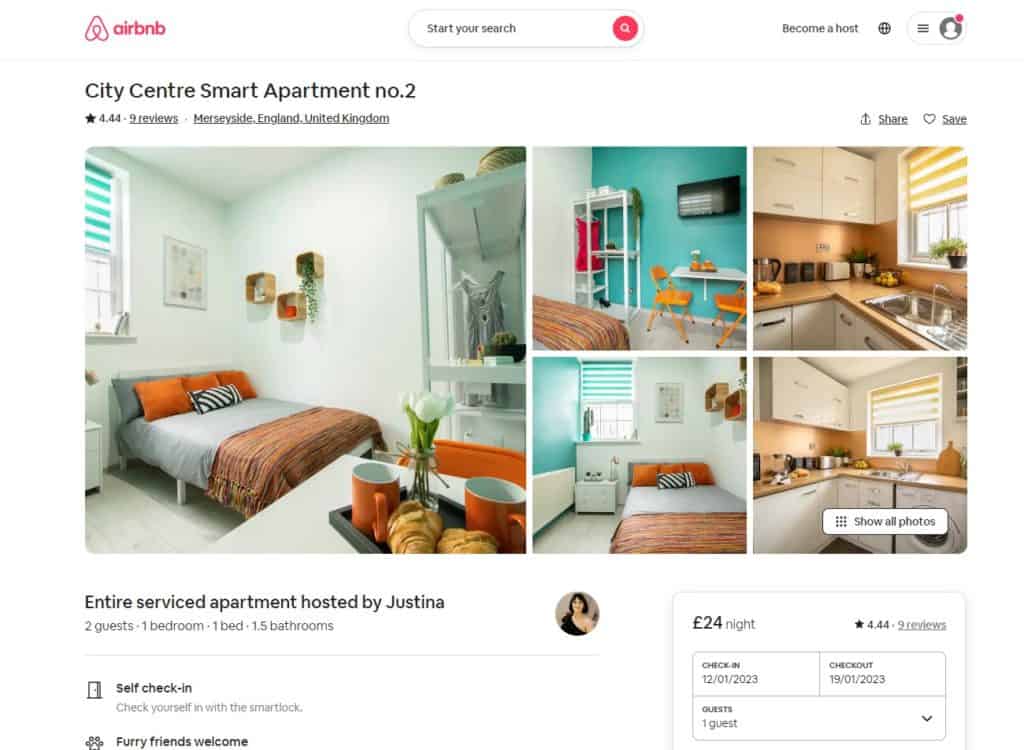 This gorgeous, fully furnished city center apartment comes for only £24 a night for one guest.
Limerick
Surprisingly, you can find the cheapest private room in Limerick for just £17 a night. It features a complete kitchen, shower, dedicated workspace, and Wi-Fi.
The average cost of renting a townhouse in Limerick through Airbnb can be around £120 a night.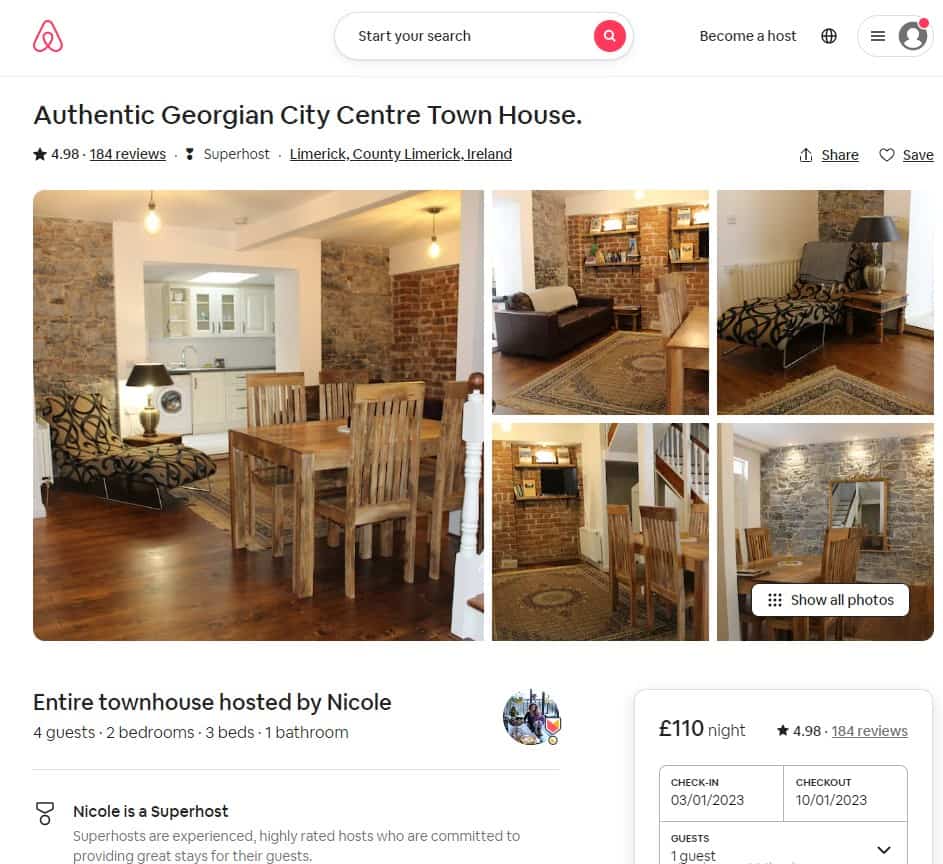 For example, this townhouse, like the others in the area, features 2 bedrooms, 1 bathroom, a dedicated working area, laundry room, kitchen, and Wi-Fi.
However, both are becoming hotspots for digital nomads. If you are thinking about working remotely from either Liverpool or Limerick, we suggest, you begin looking at accommodations today!
The overall living cost in Liverpool is slightly higher than in Limerick, especially if you like to explore local pubs and cuisines.
Liverpool versus Limerick: Comparison of costs of accommodation
| | | |
| --- | --- | --- |
| | Liverpool | Limerick |
| Avg Cost of Living | £2,531 / month | £2759 / month |
| Avg Nightly Price (Airbnb) | £148 | £113 |
| Avg Nightly Price for Private Room | £86 | £64 |
| Avg Nightly Price Full Apartment or | £177 | £157 |
4. Glasgow versus Galway
Glasgow is an attractive option for digital nomads who love a slice of country in their daily city life. Its big student population and superbly friendly locals make it a welcome option for digital nomads looking for a staycation.
Galway is the second most popular place for digital nomads looking to stay in Ireland. It is a metropolis, which makes it quite similar to Dublin. However, life in Galway is quieter than life in Dublin and the other major cities in Ireland. It's definitely not congested and has plenty of old taverns that you can stop by after a long day of work.
Glasgow
Even short-term rentals in Glasgow may not be very cheap.
Be prepared to shell out around £190 per night (average nightly price) unless you manage to snag a superb offer from Airbnb.
A cozy private room in Glasgow may cost you around £30 per night.
You may have to pay a little more (at least around £80 per night) to rent an entire apartment from a super host in Glasgow city center.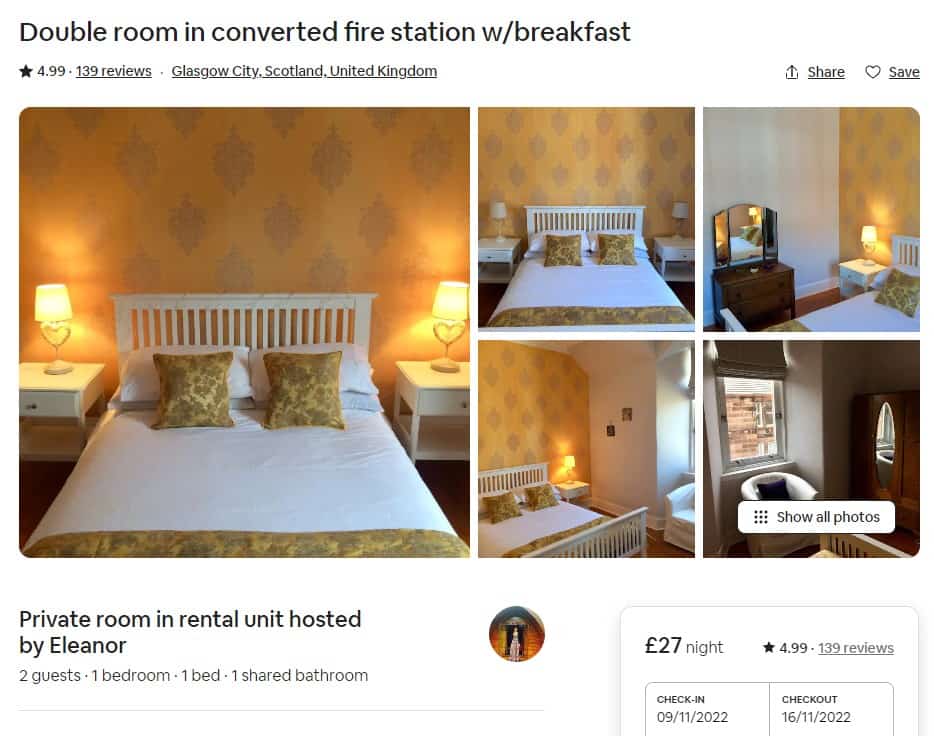 For example, this warm and stunning private room in a converted fire station comes for only £27 per night. You will get access to the basic amenities including WiFi, heating, refrigerator, coffee maker, and free on-premise parking.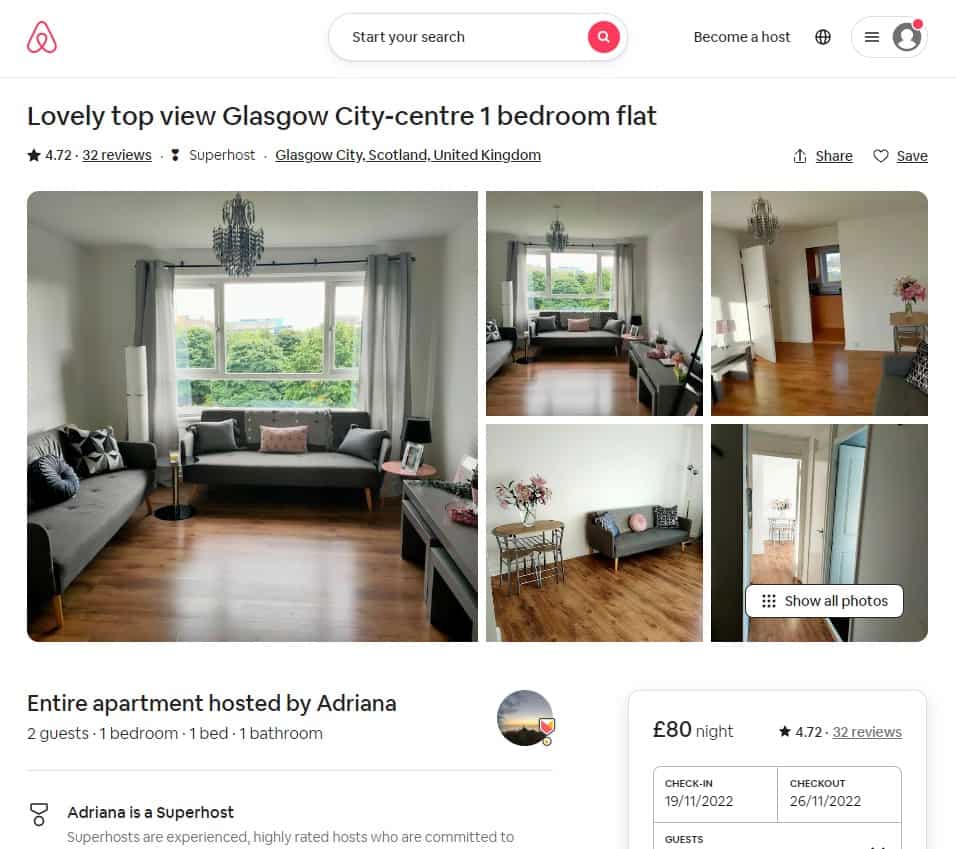 Apart from the basic amenities like Wi-Fi and toiletries, this apartment comes with a fully functional kitchen, laundry room, or washing machine, and a grand view of the city skyline.
Galway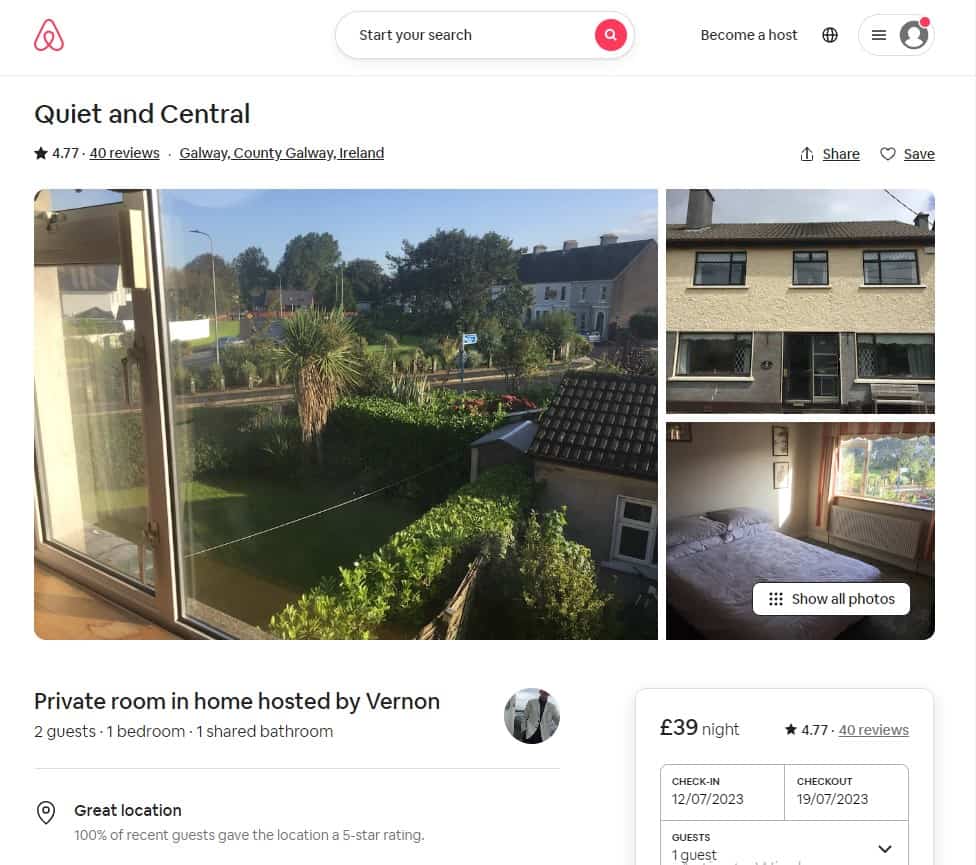 You can book this small yet stunning private room for one for £39 per night in Galway.
If you are planning to stay in Galway for no longer than a week, you should check out private rooms.
Private rooms are considerably cheaper than hotel rooms and apartments.
You can book a private room with a view for around £46 per night.
Staying longer than one week? You may want to hire an entire apartment or flat.
The average nightly price for an entire apartment is around £140.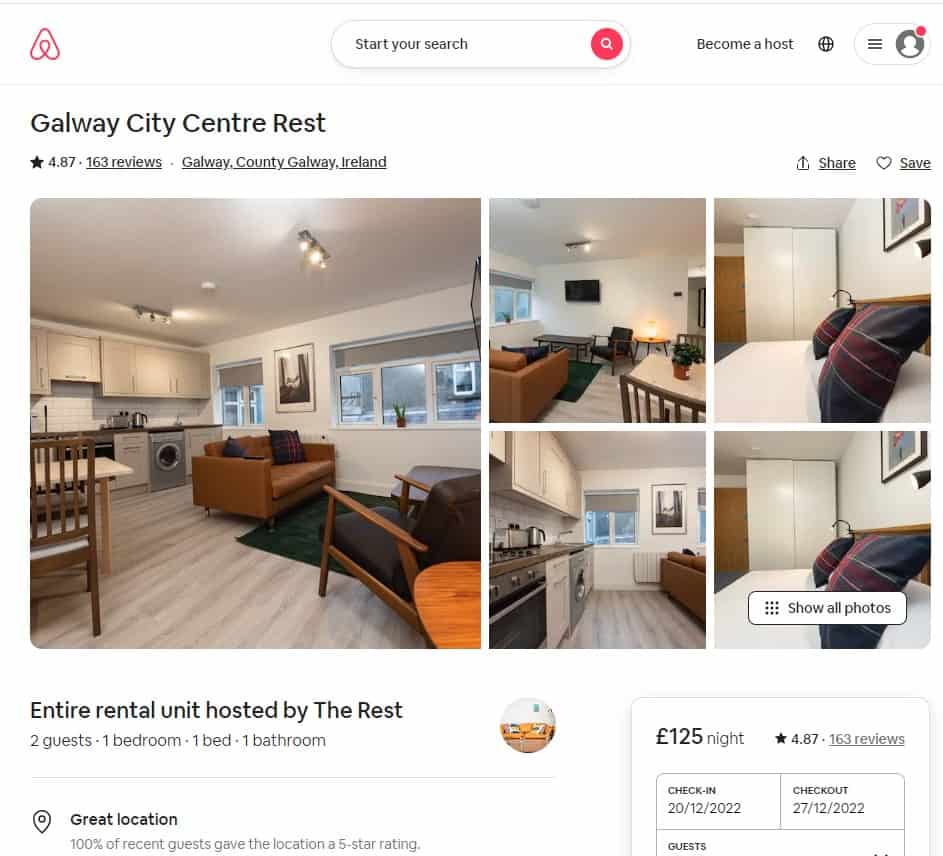 These flats come with functional kitchens, laundry rooms (or washing machines), security cameras (home safety options), and, of course, free Wi-Fi.
If you do find an apartment or home that looks suspiciously cheap, don't forget to check the most recent reviews!
Glasgow versus Galway: Comparison of costs of accommodation
| | | |
| --- | --- | --- |
| | Glasgow | Galway |
| Avg Cost of Living | £3,625 / month | £3,753 / month |
| Avg Nightly Price (Airbnb) | £198 | £142 |
| Avg Nightly Price for Private Room | £95 | £80 |
| Avg Nightly Price Full Apartment or Townhouse | £240 | £194 |
5. Coventry versus Cork
Coventry (UK) and Cork (Republic of Ireland) have been twinned since 1958. There is a thriving Irish community in Coventry. So, if you are interested to experience the Irish culture and social life, both are great options.
Word to the wise – if you are about to visit Coventry or Cork during St. Patrick's Day, you should book at least 2 months in advance.
Coventry
Coventry is a splendid city with old roads lined with bars and restaurants. It is ideal for summer visits. Most importantly, it has superb internet speed. It is not crowded like most main cities in the UK. Sadly, it may be a little too expensive for all remote workers traveling on a budget, especially around the time of festivities.
You may find a simple private room for as cheap as £33 per night.
If you are traveling alone and looking for a short-term stay, private rooms should be enough.
If you book early, you may even be lucky enough to find apartments or entire rental units for around £50 per night.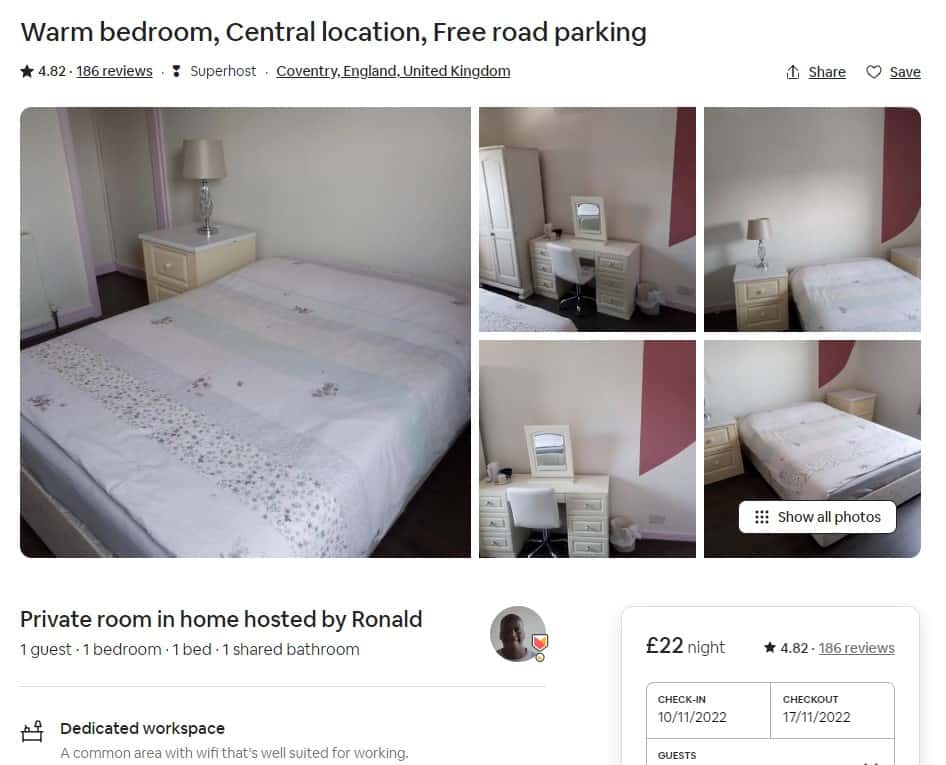 This private room comes equipped with dedicated workspaces and Wi-Fi. You can book this private room via Airbnb at only £22 per night.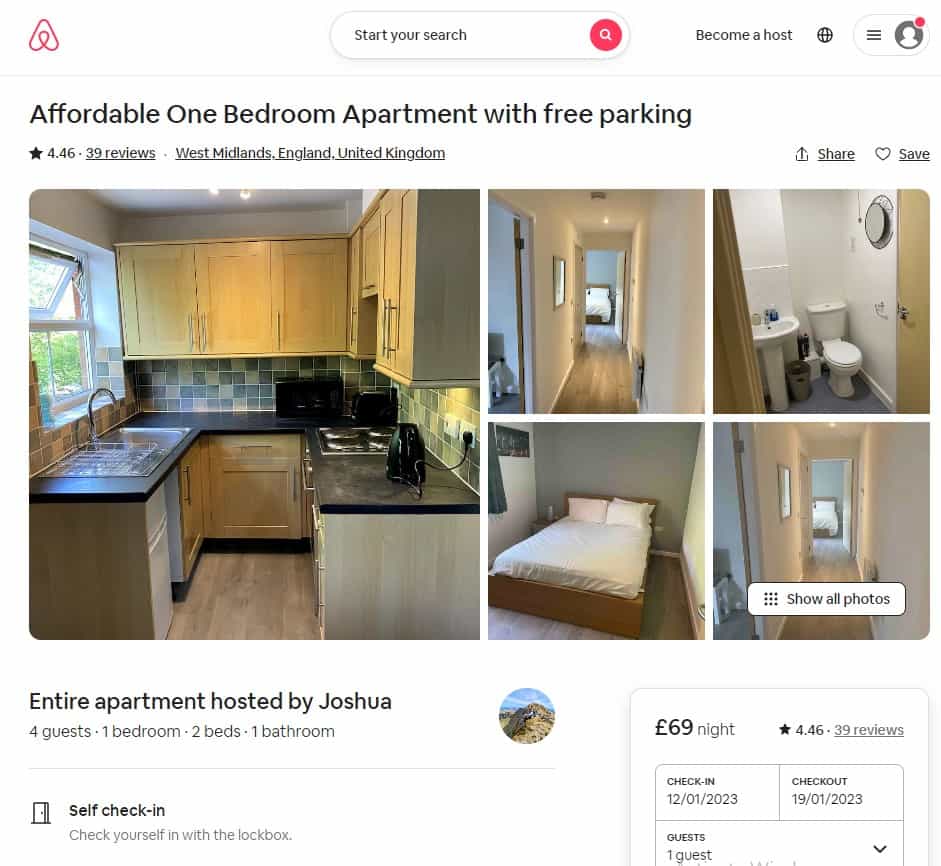 Apartments are ideal for longer stays since you may want to cook your own meals and wash your clothes from time to time. At £69 per night, this apartment is the dream nest for any digital nomad traveling to Coventry for the first time.
Before booking, make sure the apartment or private room in Coventry has authentic reviews and a high rating.
Cork
Cork is replete with staying options since it's already extremely popular among digital nomads. In Cork, you will be delighted to find restored and converted homes with interesting histories and cultural significance. Cork has a story in every lane.
You can rent a single private room for as low as £28 per night.
Or you can simply rent an entire apartment or townhouse for around £80 per night.

Even the most basic amenities in private rooms, such as this one, include access to Wi-Fi, heating, and hot water. Nonetheless, always check the Airbnb listing and its reviews to ensure that you get what you see.

City Centre apartments like this one are smart options if you are traveling with a company and plan on staying longer than 7 to 10 days.

Want to go all the way and try a truly nomadic life? How about spending the nights in a treehouse in cork? It is one of the rarest opportunities of a lifetime. Despite its au naturel feel, you will have round-the-clock Wi-Fi. However, you may have to dish out upwards of £100 for this unique experience.
Coventry versus Cork: Comparison of costs of accommodation
| | | |
| --- | --- | --- |
| | Coventry | Cork |
| Avg Cost of Living | £4,018 / month | £3,198 / month |
| Avg Nightly Price (Airbnb) | £130 | £129 |
| Avg Nightly Price for Private Room | £181 | £76 |
| Avg Nightly Price Full Apartment or Townhouse | £142 | £173 |
Final Verdict
UK and Ireland are abounding with options for living the ideal digital nomad life with smaller and bigger budget hosts available via Airbnb. Whether you're a digital entrepreneur or a remote worker, everyone can start a blog and build a successful web property as a top blogger with popular magazine sites or guest posting sites and work from anywhere where there is the internet. But you can check that this is the case for any Airbnb host.
Obviously, the most populated and action-packed cities are the most expensive with London and Dublin at the top end. But when you want to just be away from everything, you can find great bargains both in Ireland and the UK with Belfast and Westport at the lower end.
Now, you can work and travel through Ireland and the UK knowing exactly where to find suitable accommodation in each popular city where short-term and long-term rentals are available within your budget.
Author Profile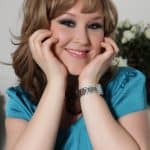 Blogger and Educator by Passion | Senior Online Media & PR Strategist at ClickDo Ltd. | Contributor to many Business Blogs in the United Kingdom | Fascinated to Write Blogs in News & Education I have completed a journalism summer course at the London School of Journalism and manage various blogs.