How Money Saving Expert Martin Lewis Started a Website with £100 Which He Sold for £87 Million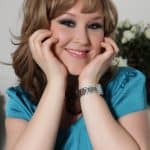 An average guy started a website for £100 in 2003. And 9 years later, in 2012, he sold it for £87 million.
This deal was covered by all major UK newspapers such as The Daily Mail: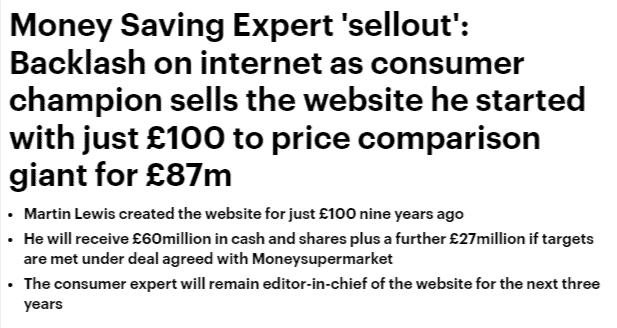 But why are we still discussing something from 2012?
Well, because that kind of deal doesn't happen every day and the www.moneysavingexpert.com website remains the leading finance expert address millions of people use today.
Other than offering money-saving advice on the blog, the site also offers money-making advice via the way it operates and grows.
Ready to check out those lessons and make your own millions with your website?
Read on.
Exchange £100 to £87 million? Perhaps not.
Martin Lewis became one of the richest journalists when MoneySavingExpert.com was bought off for a whopping £87 million in 2012.
And the headlines made it look like the man just exchanged a £100 note for a bounty of £87 million. That couldn't be further from the truth.
MoneySavingExpert.com became so valuable due to its content and marketing at the time of sale.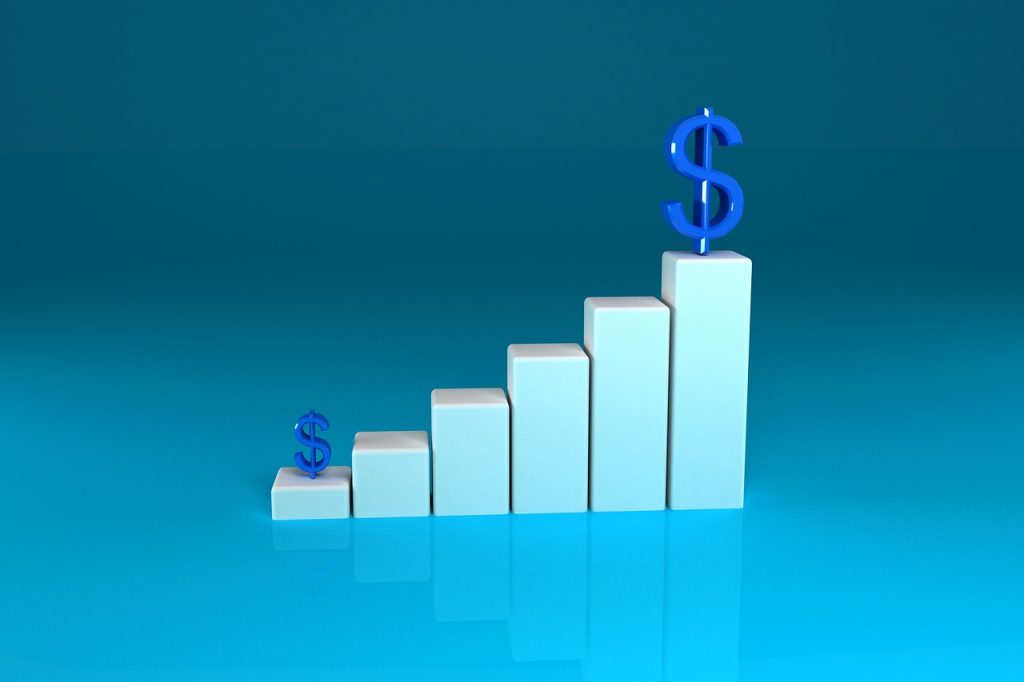 As per Google Analytics, in the year directly preceding its sale, MoneySavingExpert.com generated 277-million-page impressions and 9 million unique visitors according to the Guardian.
That's more than a one-man job to do and, of course, more than what £100 could have made possible. Rightly enough, Martin had 42 full-time staff members, more than half of whom were journalists.
And Martin's website generated £15.7m in revenue in the year ending October 31, 2011.
So, this isn't really the rags-to-riches story that the media made it to be. It was the result of Martin's years' worth of hard work, investment, and consistent effort that got him that banger of a deal.
In this article, we will break down Martin's method so that you can replicate MoneySavingExpert.com's genius for your own domain hosting your website.
How Martin Lewis grew MoneySavingExpert.com?
There are two primary ways you can make money with a website that started out as a blog like MoneySavingExpert.com.
One: run ads.
Two: charge subscriptions.
MoneySavingExpert.com does none of that!

So how do they keep the content free and devoid of pesky ads while still minting millions?
The quick answer – Affiliate links.
But it isn't as easy as just promoting products and services that pay you to chant their names.
In fact, that's exactly why most people struggle to make money with affiliate blogging and marketing.
Here's how MoneySavingExpert.com finds affiliate links:
Step 1 – They find the best products, services, and deals for their audience.
Step 2 – Then they see if the mentioned products, services, or deals have affiliate programs.
Step 3 – If affiliate links are found by the commercial department, they are included in the guides. If not, the article remains exactly as the editorial team wrote it to be.
Further affiliate links are marked with an * to let users know their clicks will help MoneySavingExpert.com earn and keep up with the costs.
For example…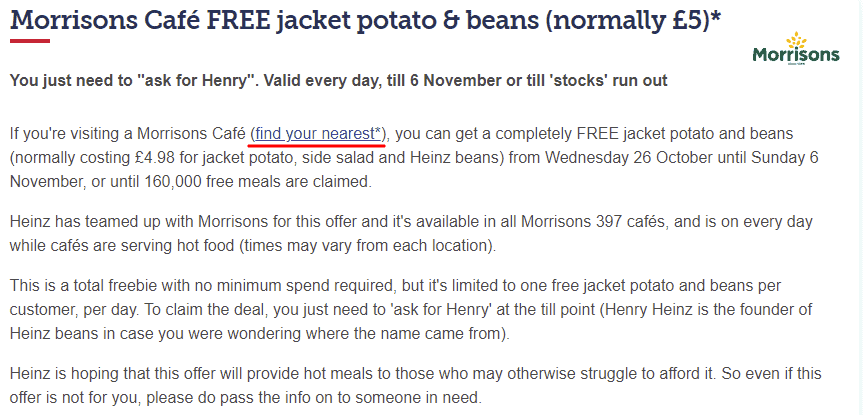 Morrisons didn't ask MSE to promote the deal. The journalists at MSE dug up the deal and let you know so that you could get free jacket potatoes and beans.
If you do want to search for the nearest Morrisons Café, you can either do a Google search or click on the asterisk-marked link here. If you do the latter, MSE gets a small commission, which helps fund them and ensures you continue learning about more fantastic deals.
The take-home points here are:
Martin's money-saving tips are legit, and they do help the readers cut down costs and save more.
People know MoneySavingExpert.com doesn't peddle products that pay them. Thus, they trust the site, keep coming back to it, and bolster their Internet presence.
MoneySavingExpert.com's readers know the links on the site – affiliate or not – are valuable so they don't mind clicking and letting the site earn.
That's a great model for making honest money, right?
The best part, however, is that now that you know how the model works, you can easily replicate it. And (hopefully!) make millions from a few hundred pounds of investment yourself.
Learn the step-by-step process below.
How to replicate Lewis' method of building a money-magnet website?
1. Don't talk 'everything' to 'everyone'.
Martin Lewis' audience doesn't just care about saving money. They also care about cars, for example. But Martin isn't dishing out advice about which car to buy.
Also, Martin, being a financial expert, could be telling rich Britons how to get richer. But that's not an audience he writes for. Even though he could.
The lesson for you here is to not write just for the sake of writing.
Find a niche audience to write for.
Find a niche topic to write about.
Now identifying who and what you want to write about is easily doable.
What is complicated is getting to the right audience.
There are two ways to reach your audience –
Organic search engine optimization
Paid online ads
And while MoneySavingExpert.com's valuable advice is what brings visitors to them, there is also a parallel line of ecommerce SEO that many don't notice.
One of the reasons why any time you search for any combination of "money", "saving', "deals", and "tips", you'd definitely get a result from MoneySavingExpert.com in the top 10.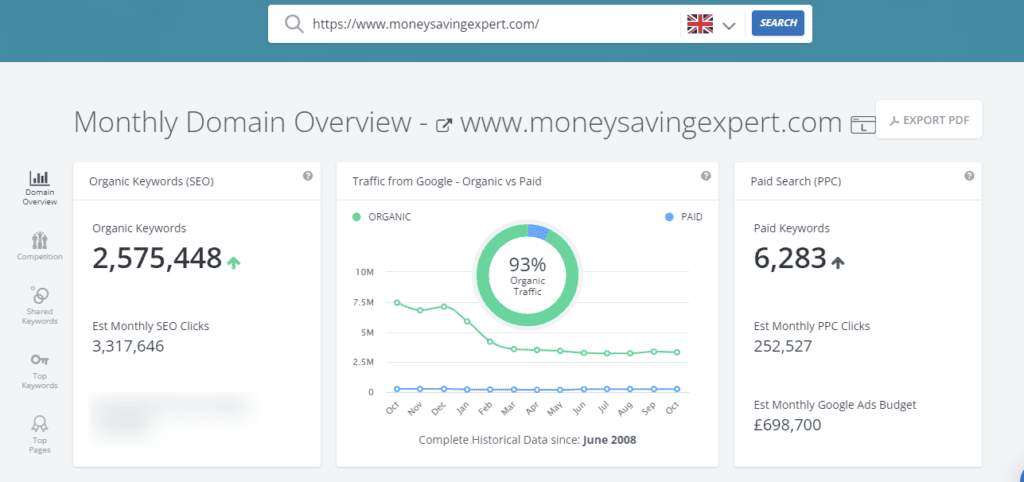 And they rank for more than 2 million keywords. As you can also see from the screenshot above, they target more than 6,000 keywords using paid ads.
Now when you focus on creating content that is sheer gold, it can get tough to focus on running ads or carrying out search engine optimization.
So, while you focus on the former, you can trust SeekaHost for support with SEO and paid online advertising services as they offer marketing services through their sister company ClickDo Ltd.
With these dedicated services, you get to focus on what you do best. And your content also reaches the right audience.
2. Create new, legit value content
Regurgitating what's already on the Internet won't captivate your audience. Also, you cannot just blabber and expect people to read your blog like a textbook.
As attention spans get shorter and the volume of content on the Internet grows, your content needs to be:
New
Actually valuable
Easy on the eyes
Quick to understand
Engaging
MoneySavingExpert.com has a staff of more than 60 people today. A lot of them are journalists and writers. Martin could have tried to do it all by himself. He has the knowledge, after all. But he ensured he onboarded experts and you shouldn't shy away from hiring copywriters to present your ideas better if the need be.
3. Treat your blog like a media company
One of the key reasons why Moneysupermarket was willing to dish out £87 million for a website was its strong army of loyal readers. So to boost your site's valuation, you also need to build an audience that'd vouch for you.
Treating your blog as a blog – a place where you write your heart out, won't do it.
What you need to do is treat your blog as a media company, which communicates the right messages to the right audience.
There are 3 components to doing that:
1. Choose, at least, two forms of content.
Blogs have a limited audience. But blogs with social media reach a wider population. You could go for podcasts, videos, or whatever form feels comfortable to you. For MSE, it was user-generated content on their forum along with the guides on the main site.
2. Diversify your traffic sources.
Google's algorithm updates can screw up your rankings and traffic. Even if you create quality content, expect some volatility with the updates. So don't just depend on organic search as your source of traffic. Find other ways too. It could be social media, email marketing, or something else. MSE, for example, has a weekly MoneySavingExpert Email which has 7.5 million subscribers.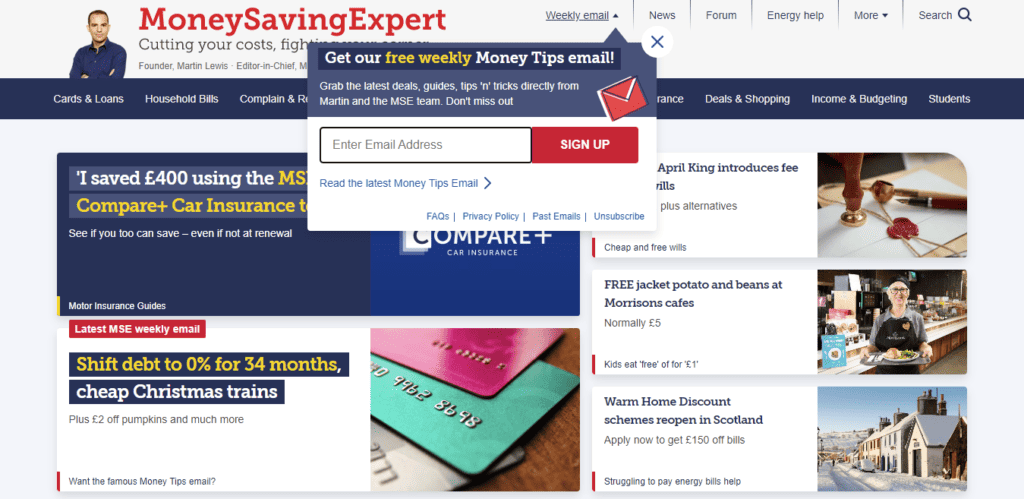 That's a big part of where their traffic comes from.
3. Keep things professional.
If you expect to make money from your blog, be ready to invest in it. Get reliable blog hosting. Don't go with free domains, register a proper domain name. And invest in digital marketing to make your mark online.
When you treat your blog as a proper company, it will yield profits sooner rather than later.
4. Experiment with revenue models
There are plenty of ways to make money with your blog.
But what worked for someone else may not always go down well with you. So don't shy away from experimenting with revenue models.
Affiliate marketing with a twist worked for Martin. It might not work for you. But if you want to give it an honest try, make sure you learn the basics of affiliate marketing before trying to earn from it.
You might also want to check out some of the top affiliate programs that you can be a part of. And don't forget to explore affiliate marketing options from Amazon.
5. Trust the timing
Martin Lewis sold MoneySavingExpert.com after running it on his for 9 years. He not just made £87 million but also retained editorial autonomy and independence for the site.
That doesn't mean as soon you hit the 9-year mark with your site, you'll have buyers knocking on your door too.
You could get offers before that too. But it might also take longer for your website to reach such a valuation.
The key is to not rush things. And also not delay it.
One way to know when the time is right to go the market with your site – When the site becomes bigger than the one who set it up.
Ready to make millions from your website? Get started today
Martin started sending out money-saving tips to friends and family via email. When that blew up, he knew he could capitalize on his expertise with a website.
And so can you.
Martin Lewis is a finance guru. But you don't have to be knee-deep in financial knowledge to achieve the feat he did with his website.
You've seen how he did it. You know how you can do it. So don't wait anymore. Get started right away and get a smart domain name for your website, fill it with genius content, and spread the word. Your millions are waiting for you.
Author Profile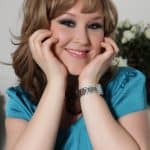 Blogger and Educator by Passion | Senior Online Media & PR Strategist at ClickDo Ltd. | Contributor to many Business Blogs in the United Kingdom | Fascinated to Write Blogs in News & Education I have completed a journalism summer course at the London School of Journalism and manage various blogs.